Personal vs. Personalized Education
In a world where technology is increasingly embedded in education, relationship will be even more valuable
While I lounge in my August recess, I thought I'd repost a great essay from Josh Brake. He has good insight into the really important difference between "personal" and "personalized" -- one that we too often lazily ignore. And his comments on AI in teaching and learning are well considered: "This fall we're going to see a lot of examples of 'x' + AI where 'x' is writing, grading, thinking, etc.," he writes. "We ought to keep our eyes wide open. There's no such thing as just introducing a new gadget to do one particular task." Gadgets get applied promiscuously, it seems, and they alter balances and environments. I'll be back in force later this month. -
I recently started my second read through Andy Crouch's book The Life We're Looking For and have been thinking about the intersection of the ideas that he explores in the book and their intersection with education. One that is resonating with me this week is the idea of personal vs. personalized. The idea of personalized education is in vogue these days, especially with the influence of AI tools over the past year, largely in the form of Large Language Models. But is a personalized education really what we want?
These edtech tools offer to improve educational outcomes for students as a virtual tutor. I'm thinking about Khanmigo, Khan Academy's new AI-powered tool which promises to "mimic one-on-one tutoring experiences by providing tailored support, prompting critical thinking, and suggesting relevant resources." Harvard's well-known introductory computer science course CS50 will introduce a LLM-powered CS50 Bot which will "eventually approximate a 1:1 teacher:student ratio for every student in CS50…by providing them with software-based tools that, 24/7, can support their learning at a pace and in a style that works best for them individually." One need not make any great leaps of the imagination to see that this is likely only the start, not the end of where these tools will end up. Soon, AI features will be embedded into many of the tools we regularly use as part of our learning, from ideation, editing, assessment, and teacher-student interactions.
I don't consider the integration of AI into education to be a zero-sum game. I think there are ways to use AI tools to help improve the educational experience, especially in areas where other forms of pedagogy may not be available for various reasons. But I do worry about the almost breathless optimism with which these tools are being adopted as if they will usher in a new utopia of education. In many ways, I wonder what Ursula Franklin would have to say. I suspect she would make some thought-provoking connections between today and the technologies of the past that were supposed to be an unmitigated good for humankind.
There is nothing new under the sun
In her 1989 CBC Massey Lecture Series, Franklin unpacks the complex relationship between technological innovation and societal change, making special note of the way that technology functions differently when used by a single person in an isolated way compared to when that same technology crosses a certain threshold of adoption in the wider society. She was writing about the automobile and the sewing machine, but I can't help but think that the same analysis applies to our questions about AI.
[M]any new technologies and their products have entered the public sphere in a cloud of hope, imagination, and anticipation. In many cases these hopes were to begin with fictional, rather than real; even in the best of circumstances they were vastly exaggerated. Discussion focused largely on individuals, whether users or workers, and promised an easier life with liberation from toil and drudgery. Discourse never seemed to focus on the effects of the use of the same device by a large number of people, nor was there any focus on the organizational and industrial implications of the new technologies, other than in the vaguest of terms.
A "cloud of hope, imagination, and anticipation." Sound familiar? She goes on.
It should be evident by now that there is no such thing as "just introducing" a new gadget to do one particular task. It is foolish to assume that everything else in such a situation will remain the same; all things change when one thing changes. Even the introduction of a dishwasher into a family's life changes their communication and time patterns, their expectations and the ways in which the family works together.
This fall we're going to see a lot of examples of "x" + AI where "x" is writing, grading, thinking, etc. We ought to keep our eyes wide open. There's no such thing as just introducing a new gadget to do one particular task.
Personal vs. Personalized
In light of this, I think Andy Crouch's distinction between the personal and the personalized is a vision for a way forward. In our technological age, when we talk about something being personalized, it is imitating relationship. It has the appearance of knowing us without actually knowing us.
A personalized ad uses information about our interests, hobbies, and recent internet activity to predict something that we might want to buy. The goal is to offer services to me that only someone who knows me is able to but without the messiness of human relationships.
To illustrate this Andy writes about an advertisement he received by mail in a handwritten envelope, addressed to "The Crouch Family." Inside he found a page of ruled yellow paper with a note from a regional representative of a window company, "Sarah G." The "handwritten" note was a forgery designed to convey the intention and attention of the time spent writing a letter by hand. The note was not personal, but personalized. There was no person on the other end of the note, but rather a combination of a fancy inkjet printer combined with some programming to insert a name to match an address.
This is the unfortunate and often inevitable end of technology in our lives. What starts as a tool to enable us to perform a task more easily, like a computer enables us to easily draft a letter and then print or send it by mail or email, ends up also being used to more easily sell us something, masquerading as a friendly letter from a neighbor.
Relationships are the most meaningful part of an education
This same push of personalization is the explicit goal of the first wave of artificial intelligence tools hitting education. And I'm convinced that this is only the start. As time goes on we'll continue to see the promise of personalized education and its attendant benefits.
It's not that personalization isn't a valuable part of an educational curriculum. Each student can certainly benefit from having a curriculum that is tailored to their individual strengths and weaknesses, providing them with the appropriate amount of challenge so that they learn while avoiding the panic zone where learning shuts down.
But I worry about the prospect of a personalized education divorced from a personal education. Reflecting on my own experience, many of the lessons that I learned from my wonderful professors during my undergraduate years at LeTourneau were less about the technical details and more about the relationship. I'm grateful for the technical knowledge and skills that they helped me to develop. But the impact of their relationship was worth far more.
This is the part of my education that has endured far more meaningfully than learning how to design a circuit or perform an experiment. The lessons I learned about engineering were important, but the lessons I learned from their examples of teaching with love and challenge, leading with humility, and approaching their work through the lens of service to others is what remains with me most deeply ten years later.
The intended consequences are one thing. The unintended consequences are quite another.
I'm all for using technology to help us make the world a better place. I'm just not sure that it's as easy as we think it is. Part of the beauty of technology is the way that it can help to reshape the brokenness of our world and create the conditions for flourishing in places where we thought it was impossible. I hope that this latest trend of technology in education is part of this redemptive vision. But let's be wary of unbridled optimism that these tools will revolutionize education as we know it without considering and trying to mitigate the unintended consequences.
---
The Book Nook
I finally finished Tinker, Tailor, Soldier, Spy this last week. I'll just come out and say that this one was not my favorite. Not sure why, but it just didn't really pull me in. There were a lot of sections that felt like they were just adding texture and background information to the story that didn't really resonate.
From reading some reviews after I finished it I can understand its appeal as a realistic spy novel as opposed to other more fanciful and less grounded stories. I think I just had "standard spy novel" in my head and so all the additional legwork to flip back and forth to piece things together just didn't do it for me.
---
The Professor Is In
This last Thursday a group of undergrads doing research this summer in the Engineering department at Harvey Mudd gave their end-of-summer presentations. While my students still have a few weeks to go before they wrap up, they gave great presentations on the work they have been doing this summer. I'm looking forward to seeing the culmination of their hard work as they begin to wrap things up over the next few weeks!
---
Leisure Line
Another weekend, another pizza. Still can't believe it took me this long to get a box shredder to manually shred mozzarella. Gotta avoid that cellulose or the other coatings they use to help the cheese stay longer and not clump up. Melts so much better!
---
Still Life
We enjoyed a quick trip down to San Diego this last weekend. Packed in a visit to the San Diego Zoo Safari Park and a day at the Coronado Central Beach in addition to a quick stop in La Jolla on the way back home.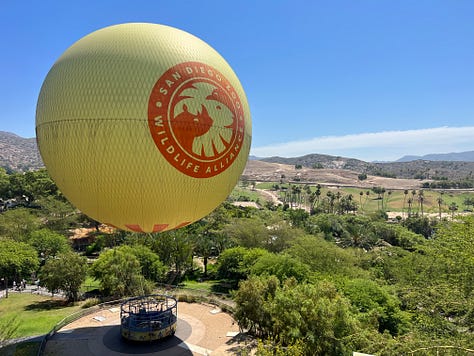 The Absent-Minded Professor is a reader-supported publication. To receive new posts and support my work, consider becoming a free or paid subscriber.